About CrossPollen || CrossPollen Main Page || CrossPollen e-mail

Testing and Tempting

Our Father in heaven, ... lead us not into temptation. (Matthew 6:9,13)
Many Christians consider testing and temptation to be two entirely different things. God tests, they say, while Satan tempts. But in fact, the Bible makes no distinction between 'test' and 'tempt'. In both Old and New Testaments, a single word (Hebrew or Greek, respectively) is used, and the 'distinction' is made only by translators.
How may we understand this? In fact, testing and temptation are two aspects of the same experience. Testing and tempting are God's and Satan's roles, respectively.
One might object: "How can this be true? What about God's testing of Abraham? Satan is not even mentioned -- it was God who told Abraham to sacrifice his son." However, we may be sure that Satan and his angels were actively sowing doubt and despair in Abraham's mind, screaming at him to renounce his faith and curse God.
On the other hand, Job's ordeal was both clearly both test and temptation. God removed His protection, and Satan took advantage of the opportunity to bring affliction and misery. This sequence is typical: Satan seizes upon God's testing as an occasion to tempt us. But God has already anticipated Satan's schemes, for He uses Satan's temptations as an integral part of His testing process.
Jesus' life is archetypical, and His temptations are archetypes as well. In Jesus' life, testing and temptation are clearly identified. Satan's temptations were an integral part of Jesus' testing in the wilderness, where He was led by the Holy Spirit immediately following His baptism. Jesus' greatest test was the Cross, which Jesus endured in obedience to the Father. Though the Cross was the Father's will, the entire ordeal was orchestrated by Satan's minions; and they mocked and derided Jesus at every turn, daring Him to turn from God's purpose.
We have claimed that testing and temptation are one. But how does this view square with James 1:13(MKJV): "Let no one being tempted say, 'I am tempted from God'. For God is not tempted by evils, and He tempts no one"? This passage seems to say that God is not at all involved in our temptations. But what follows reveals that James is talking not about mere exposure to temptations, but about succumbing to them. "But each one is tempted by his lusts, being drawn away and seduced by them. Then when lust has conceived, it brings forth sin. And sin, when it is fully formed, brings forth death." (James 1:14-15, MKJV) "God is not tempted by evils", does not mean that He is never exposed to temptation: for Jesus WAS tempted just as we are, yet remained free of sin (Heb. 4:15). We can never blame God (nor Satan!) for falling to temptation, for our own lusts are the immediate cause of our moral failures. "No temptation has taken you but what is common to man; but God is faithful, who will not allow you to be tempted above what you are able, but with the temptation also will make a way to escape, so that you may be able to bear it." (1 Cor. 10:13, MKJV). "So then, those who suffer because it is God's will for them, should by their good actions trust themselves completely to their Creator, who always keeps his promise." (1 Pe. 4:19).
In summary , testing and temptation are one. Satan's temptations are an integral part of God's testing, according to God's plan. Though both God and Satan play a part, we should blame neither for our troubles, because misery comes only when we succumb to our sinful desires. Instead, we should present ourselves before the Lord, calling upon Him constantly for mercy and His gracious Spirit to strengthen us in our time of need.

Prayer: Father, lead us not into temptation. Nevertheless, Father, not our will but Yours be done. We trust that when You ordain trials for us, You also provide deliverance.
---

© 2003 CrossPollen. CrossPollen articles may be copied without permission from the author AS LONG AS (1) the article content is not changed (2) the original copyright notice is included. If you have been stimulated or challenged by these articles, please consider making a financial contribution to CrossPollen."Do not muzzle the ox who threshes the grain... If we sowed unto you spiritual things, is it a great matter if we shall reap your carnal things?"(1 Corinthians 9:9-11) Please contact us via e-mail. Thank you!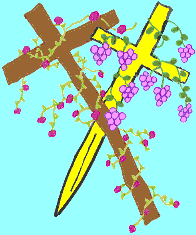 ---