About CrossPollen || CrossPollen Main Page || CrossPollen e-mail

The Lord's Chosen Adversary
And the LORD was angry with Solomon, because his heart was turned from the LORD God of Israel, … And the LORD stirred up an adversary unto Solomon, Hadad the Edomite: he was of the king's seed in Edom … And God stirred him up another adversary, Rezon the son of Eliadah, which fled from his lord Hadadezer king of Zobah … (1 Kings 11:9-43)

In his later years, King Solomon's wives distracted from his devotion to the LORD. He lavished attention and riches upon them, building them palaces and even temples for their own idolatrous worship. So the LORD was angry, and the LORD raised up adversaries against his rule. One was Hadad the Edomite, who cherished hatred towards Israel because years before King David's army had occupied Edom and waged genocide. Another was Rezon king of Syria, son of another of David's old enemies.
In recent years adversaries have been raised up against the United States. Could there be a connection between our situation and Solomon's?
Think about it. Our hearts also have been turned from the LORD. We spend billions on pro sports, movies, video games, restaurants and other self-indulgent entertainments; billions on cosmetics, lotions, hairstyles, and other "appearance enhancers"; billions on unnecessary new vehicles; billions on fancy houses. Where our treasure is, there our hearts are also. These are our 'wives' who have captivated our hearts. It's true that we maintain a form of religion, and give also to the poor and to the Church. But were Jesus here He would shake His head and say, "Woe unto you, scribes and Pharisees, hypocrites! For ye pay tithe of mint and anise and cummin, and have omitted the weightier matters of the law, justice, mercy, and faith: these ought ye to have done, and not to leave the other undone!" (Mat. 23:23)
As a result of our waywardness, the LORD has stirred up adversaries. One is Islamic fundamentalism, as typified by Bin Laden's Al Qaeda. Another is post-colonial nationalist extremism, as represented by Saddam Hussein, Kim Jong Il and Qadafi.
Note that these adversaries are the "children" of those whom we have offended in the past. Muslims have never forgotten Western atrocities dating back to the Crusades. And those newly-independent nations which flex their muscles still smart from having been pushed around by Western imperialistic powers.
These adversaries' greatest weapon is propaganda. They point to America's self-superiority, greed, and moral decrepitude. Their indictments are true -- we have no answer. As long as we continue to have no answer, they will continue to gain ground, despite all of our military pyrotechnics. We win battles and gain territory, but they gain people's hearts.
Our current response to these adversaries is entirely inappropriate, and utterly ineffective. Counter-terrorism assuages the immediate threat, but in the long term solves nothing.
Solomon was supposed to be a man of peace. He could have made peace by humbling himself, making reparations for the past, and extending a hand of reconciliation. Instead, he was too preoccupied with his own power and magnificence. Americans – does this sound familiar?
All these things happened to them as examples for others, and they were written down as a warning for us. For we live at a time when the end is about to come. If you think you are standing firm you had better be careful that you do not fall. Every test that you have experienced is the kind that normally comes to people. But God keeps his promise, and he will not allow you to be tested beyond your power to remain firm; at the time you are put to the test, he will give you the strength to endure it, and so provide you with a way out. So then, my dear friends, keep away from the worship of idols. I speak to you as sensible people; judge for yourselves what I say. (1 Corinthians 10:11-15, GNB)
Prayer: Father, awaken our dulled hearts, that we take heed to Your warnings. Thank You for Your faithfulness; we need strength from you that we may also be faithful, and keep ourselves pure from idols. Shake us up from head to foot, that we be no longer mere 'tithers' but whole-hearted workers of justice, mercy, and faith.

---

©2003 CrossPollen. Cross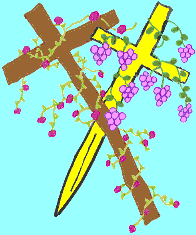 Pollen articles may be copied without permission from the author AS LONG AS (1) the article content is not changed (2) the original copyright notice is included. If you have been stimulated or challenged by these articles, please consider making a financial contribution to Cross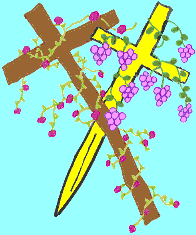 Pollen."Do not muzzle the ox who threshes the grain... If we sowed unto you spiritual things, is it a great matter if we shall reap your carnal things?"(1 Corinthians 9:9-11) Please contact us via e-mail. Thank you!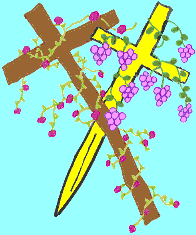 ---
CrossPollen
e-mail: thornroot@juno.com

Copyright © 2003 CrossPollen
Last Revised: February 16, 2003