About CrossPollen || CrossPollen Main Page || CrossPollen e-mail

Now you see Him, now you don't

[Jesus said] "After a little while, you will not see me: and a little while later, and you will see me again, because I go to the Father." Then some of his disciples said to themselves, "What is this that He is saying to us? … we cannot understand what he is saying." (John 16:16)

Why does Jesus speak so vaguely here, as if in riddles? Even today, Christians cannot agree on what He is talking about. Is He referring to His crucifixion and resurrection? Or is He talking about His return to the heaven and the giving of the Holy Spirit? Or perhaps, does He mean His ascension and second coming?
In fact, He is referring to all of these – and more. For even within our own lives, Jesus at times withdraws from us for a season, and we do not see Him. The Christian life is not one of uninterrupted intimacy with the Lord. Frequently there are periods of separation, when we feel almost overwhelmed by loneliness and sorrow. Then, suddenly, we find Him standing there, as if He had never been absent (and indeed, He never was absent!) (Genesis 22:1-18; Song of Songs 3:1-5, 5:1-8, Luke 24:13-32).
When He goes away from us, we participate in His crucifixion, and share His feelings of separation from His Father (Matthew 27:46). When His presence returns, we participate in His resurrection, and are filled with overwhelming joy.

Prayer: Lord, thank you that through the Cross, you are with us even when we feel separated from You.
---

©2002 CrossPollen. Cross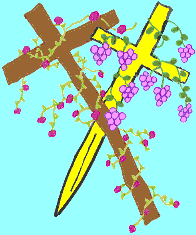 Pollen articles may be copied without permission from the author AS LONG AS (1) the article content is not changed (2) the original copyright notice is included. If you have been stimulated or challenged by these articles, please consider making a financial contribution to Cross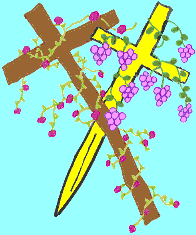 Pollen."Do not muzzle the ox who threshes the grain... If we sowed unto you spiritual things, is it a great matter if we shall reap your carnal things?"(1 Corinthians 9:9-11) Please contact us via e-mail. Thank you!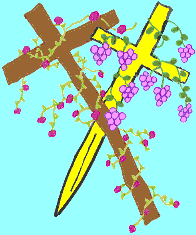 ---
CrossPollen
e-mail: thornroot@juno.com

Copyright © 1998 CrossPollen
Last Revised: June 7, 2002