About CrossPollen || CrossPollen Main Page || CrossPollen e-mail

Ordinary Tasks, Extraordinary Prayers
Read Luke 19:10-27
The Lord said to him, "Well done, good and faithful servant. Since you were faithful in a very little, I now give you authority over ten cities." (Luke 19:17)
I like to read about great preachers and missionaries of the past. I dream that one day I too might shake the world for Jesus Christ. But compared to my aspirations, my current activities seem so insignificant. How then can I find satisfaction in my daily life, when it falls so far short of my hopes?
The above Scripture holds the key. Jesus invites us to view our ordinary duties as a glimpse of something greater. My present circumstances form a small-scale representation of a much larger arena where I may someday serve Him, should I prove faithful.
When seen in this light, my mundane activites are transformed into prayers of global scope. For instance, my children have neighbor friends from four continents and all races. It's a joy to watch them play outside together, though sometimes I have to step in to keep the peace. As I watch, my heart beseeches the Father on behalf of His children worldwide, that we all might learn to frolic together in His beautiful world. Sometimes I need to step in to solve conflicts, to calm down tempers, to help the children to share and take turns -- so I may pray with empathy for those who labor for peace between nations.
I often become irritated when discussing family finances with my wife. There are so many more interesting and "important" things to do, rather than haggling about dollars and cents! But the Bible indicates that our marriage is a picture in miniature of Christ and His Church (Ephesians 5:22-33). So as we talk, I pray for the worldwide Church, that She also may faithfully use her God-given resources to advance the Gospel and care for the poor.
---
Prayer: Lord, please use the ordinary occurrences of our daily lives to spur us to extraordinary prayers.
---

©1998 CrossPollen. Cross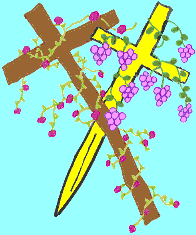 Pollen articles may be copied without permission from the author AS LONG AS (1) the article content is not changed (2) the original copyright notice is included. If you have been stimulated or challenged by these articles, please consider making a financial contribution to Cross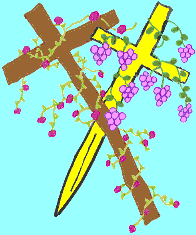 Pollen."Do not muzzle the ox who threshes the grain... If we sowed unto you spiritual things, is it a great matter if we shall reap your carnal things?"(1 Corinthians 9:9-11) Please contact us via e-mail. Thank you!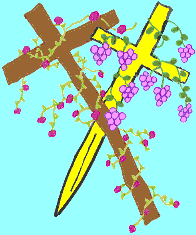 ---
CrossPollen
e-mail: thornroot@juno.com

Copyright © 1998 CrossPollen
Last Revised: March 20, 1999