About CrossPollen || CrossPollen Main Page || CrossPollen e-mail

The Most Unpleasant Task
Read Mark 15:15-21
"And as they led him away, they laid hold upon one Simon , a Cyrenian, coming out of the country, and on him they laid the cross, that he might bear it after Jesus" (Luke 23:26, KJV)
Picture Jesus carrying His cross on the way to Golgotha. The wooden crossbar bore down heavily on His bloody back. Eventually the weight became too much for him. The soldiers who prodded and whipped Him looked around for a "volunteer" to take over the burden. They singled out a passerby named Simon, probably because he was a foreigner. Thus Simon of Cyrene was given the dubious honor a carrying a bloody, sweat-soaked beam of wood for a condemned criminal, and a particularly despised criminal at that.
Of course, we have been speaking from the human point of view. From a spiritual point of view, Simon was granted one of the highest honors possible, for he served the Lord Jesus in the moment of His greatest need. He bore as it were the "throne" upon which Jesus was lifted up and crowned as King of the Jews and King of Kings. Until the end of time, Simon shall always be remembered and honored because of this one outwardly degrading, humiliating, and disgusting act of service.
How many times have we been presented with an unpleasant task and have run away from our responsibility? Let us be encouraged by Simon's example. Accomplishing that one task which we most dread may turn out to be the one task which earns us God's warmest approbation, "Well done, good and faithful servant".
Prayer: Lord, help me to see each unpleasant task as an act of service to You.
Thought for the day: Whenever we serve the least of His children, we are serving Him (Matthew 25:40)
---

©2001 CrossPollen. Cross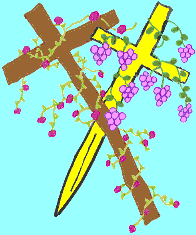 Pollen articles may be copied without permission from the author AS LONG AS (1) the article content is not changed (2) the original copyright notice is included. If you have been stimulated or challenged by these articles, please consider making a financial contribution to Cross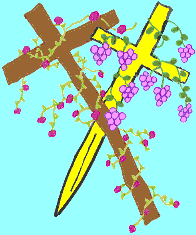 Pollen."Do not muzzle the ox who threshes the grain... If we sowed unto you spiritual things, is it a great matter if we shall reap your carnal things?"(1 Corinthians 9:9-11) Please contact us via e-mail. Thank you!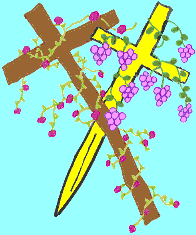 ---
CrossPollen
e-mail: thornroot@juno.com

Copyright © 2001 CrossPollen
Last Revised: June 3, 2001