About CrossPollen || CrossPollen Main Page || CrossPollen e-mail

A Work of Lasting Significance
When Sanballat heard that we were rebuilding the wall, he became angry and was greatly incensed. He ridiculed the Jews, and in the presence of his associates and the army of Samaria, he said, "What are those feeble Jews doing? Will they restore their wall? Will they offer sacrifices? Will they finish in a day? Can they bring the stones back to life from those heaps of rubble--burned as they are?"
"Hear us, O our God, for we are despised. Turn their insults back ontheir own heads. Give them over as plunder in a land of captivity. Do not cover up their guilt or blot out their sins from your sight, for they have thrown insults in the face of the builders." So we rebuilt the wall till all of it reached half its height, for the people worked with all their heart. (Nehemiah 4:1-6, NIV)

Every single one of the things that Sanballat thought was impossible, the Jews accomplished.
Whenever you build following a God-given blueprint, you measurably and permanently alter the course of history. The effects of Nehemiah's wall-building; Columbus' exploration; Abraham Lincoln's resolve for unity; and Hudson Taylor's innovation in missions may still be seen today.
When you build with God, you make a lasting, significant change in the way people think. Before you build, your goal is thought to be impossible. After you finish, your ideas appear so fundamentally and obviously "right" that they are almost taken for granted; and people forget that they were once vehemently opposed.
Our world is like an enclosed room. The impact of most people's lives merely amounts to rearrangement and readjustment of worldly furniture. On the other hand, those who build for God introduce completely new, supernatural elements into the natural world. They bring in new lamps which shed rays of divine light. They penetrate the walls of separation so the grace of God may stream in via new windows.
Jesus said, "Men shall be forgiven for all kinds of sins and blasphemies: but those who blaspheme against the Holy Spirit shall never be forgiven. And whoever speaks a word against the Son of man shall be forgiven for it: but whoever speaks against the Holy Ghost shall never be forgiven for it, neither in this world, norr in that which is to come." (Matthew 12:31-32) The blind and ignorant may resist and reject the Son of Man, and He forgives them. However, those who oppose the restoration, healing, and reconciliation which God works through His Holy Spirit incur the wrath of the Almighty. In this case, ignorance is no longer an excuse: when God works goodness through His Holy Spirit, He makes it plain to all men's hearts that these works are good, so they are without excuse. Muslims, Hindus, and moral atheists do not oppose good works, though they may oppose the Son of Man. Many ecumenical "good works" show the power and influence of the Holy Spirit, just as many religions and cultural traditions bear the trace of His influence. Christians should not oppose good works which non-Christians have initiated.
Building for God brings the joy of working with likeminded, inspired people who are fulfilling their true purpose. The work may be physically exhausting, but it's spiritually refreshing. Anyone who has had such an experience always feels deprived and dry when not so involved.
Those who build for God in the face of supernatural adversity constantly enjoy the imminent presence of God, even when there are no outward manifestations of His power (Isa. 30:20-21). When God steps back even slightly, they are sensitive to it and hasten to move back towards Him. If intimacy with God is indeed our highest priority, we will long to be placed in situations such as these (Psalm 73:25, Psalm 84:10). But God will only grant you such assignments if you search your soul and humble yourself as Nehemiah did.
Prayer:Father, I do want You to make a supernatural impact on the world through my life. I realize there are costs to pay, sacrifices to make, sufferings to endure. My weak flesh hesitates, though my spirit is willing. I don't care whether my contribution is ever recognized in this world, so long as I receive Your commendation when we meet face to face. If you so desire, I rejoice to pour out my life like a drink offering -- so long as it's poured on Your altar and not splashed wastefully on the ground.
Please, please, Father, do not let me mistake my own pipedreams and grandiose illusions for Your commission. Help me during this life to hear the echo of Your words, "Well done, good and faithful servant" -- then I will walk in the right direction and be inspired to continue despite all outward discouragment.
I pray in the name of Jesus Christ, Your Son, whose life is the perfect example, and through whom we receive the Holy Spirit which empowers us to follow Him in death and in resurrection.

---

©1999 CrossPollen. Cross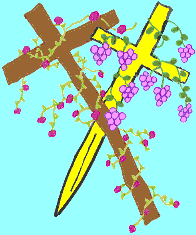 Pollen articles may be copied without permission from the author AS LONG AS (1) the article content is not changed (2) the original copyright notice is included. If you have been stimulated or challenged by these articles, please consider making a financial contribution to Cross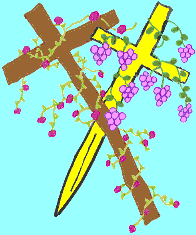 Pollen."Do not muzzle the ox who threshes the grain... If we sowed unto you spiritual things, is it a great matter if we shall reap your carnal things?"(1 Corinthians 9:9-11) Please contact us via e-mail. Thank you!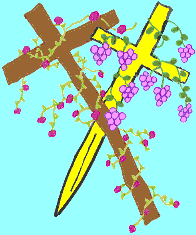 ---
CrossPollen
e-mail: thornroot@juno.com

Copyright © 1999 CrossPollen
Last Revised: July 14, 1999