About CrossPollen || CrossPollen Main Page || CrossPollen e-mail

Life Prayers
Modern Western culture encourages us to formulate our own life goals. Here we have more personal freedom than any other place or time in history: so we imagine that we have control over our own destiny.
However, more often than not, life goals are crocks. This way of thinking takes the focus off God, and places it on yourself. It glorifies self-activity rather than submission to God. It credits the do-er and not the pray-er, the Martha and not the Mary.
Who in the Bible formulated his or her own "life goal"? To be sure, many had missions entrusted to them – but the mission was not at all their choice or idea. Moses was sent to deliver his people from Egypt. John the Baptist was sent to be a "voice crying in the wilderness". Jesus was sent to die for the sins of the world (How's that for a "life goal"??)
Did Abraham have a "life goal"? No. He had a vision from the Lord of what He would accomplish through him, namely that Abraham would become the father of many nations. And Abraham did not achieve this by himself, nor did he live to see it fulfilled. God worked through Abraham, and many others as well, to bring the vision to fruition.
Did Joseph have a "life goal"? Did he set out to become ruler of Egypt? No – he yielded himself fully to God in all circumstances, and God blessed him and gave him responsibility. The same could be said of Esther, queen of Persia.
Did Paul have a "life goal"? Yes – to go and preach the gospel where it had never been preached before (Romans 15:20). But strangely enough, Paul accomplished far more when he did not go than when he did. For when he could not go, he wrote – and on the strength of those writings, subsequent generations of Christians preached the gospel in places Paul did not even know existed.
If I have a vision for building God's kingdom and a goal which glorifies God, why should it matter to me whether I accomplish it or someone else?
Rather than 'my life goals', we should speak of 'my life prayers': visions for which God has burdened my heart, which are burdens upon His heart as well; attainments I feel are worth living for, and worth dying for. These prayers should energize us, serving as our spiritual life's breath.
For example, Paul's life prayer was: "Brothers, my heart's desire and prayer to God for Israel is that they might be saved" (Romans 10:1). Paul did not accomplish this, nor has it yet been accomplished. But we know it shall be accomplished, based on the prayers of Paul and others (Romans 11:25-26). This prayer, far from being a fruitless and far-off request, was the vital force behind Paul's effective ministry to the Gentiles (Romans 11:11).
Prayer: Father, we know that what we pray according to Your will shall be accomplished (1 John 5:14-15). Please plant effective life-prayers in our hearts, which shall grow strong and tall and reach maturity in due time (Mark 4:30-32).
---

©1998 CrossPollen. Cross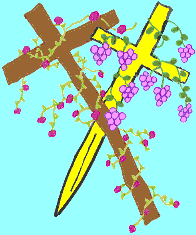 Pollen articles may be copied without permission from the author AS LONG AS (1) the article content is not changed (2) the original copyright notice is included. If you have been stimulated or challenged by these articles, please consider making a financial contribution to Cross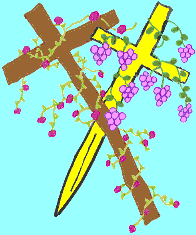 Pollen."Do not muzzle the ox who threshes the grain... If we sowed unto you spiritual things, is it a great matter if we shall reap your carnal things?"(1 Corinthians 9:9-11) Please contact us via e-mail. Thank you!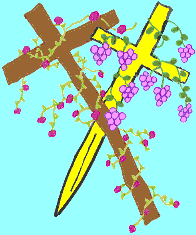 ---
CrossPollen
e-mail: thornroot@juno.com

Copyright © 2002 CrossPollen
Last Revised: September 5, 2002